Copyblogger Kills it's Facebook Page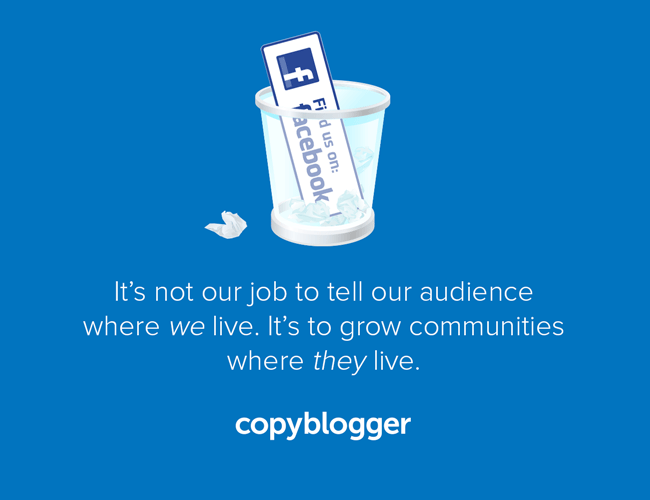 Famous content marketing educator Copyblogger has made a much disputed decision to kill their Facebook page. As a company who teaches fans how to use various social media platforms including Facebook, this has sent ripples through marketing communities. Fans around the world are wondering whether this was necessary and if it is a sign of things to come.
There has been a lot of skepticism over whether this was a needed move. From the outside the Copyblogger Facebook page wasn't exactly a shrinking violet. With over 38,000 fans and regularly posted content deleting the page seemed like a waste. However Copyblogger insisted it needed to die stating,
Copyblogger's presence on Facebook has not been beneficial for the brand or its audience.
The main reasons listed include:
An overwhelming number of junk fans
Not every social media outlet is an ideal fit for every brand
Experimenting with different content didn't change engagement
It was wasting brand time and energy
Expert in Facebook marketing Jon Loomer insisted those reasons weren't the be-all end-all. Web analytics site Alexa reported Facebook as the second highest referrer to Facebook. Jon Loomer's suggestions included keeping the page alive to prevent all effort being wasted, building an engaged audience, increasing website traffic, building an email list or using it to sell products.
This decision has also led people to consider Facebook's marketing future. Is this a trend of things to come? Considering that this move is being critiqued by experts and amateurs, it seems to not be likely in the near future. Copyblogger is not critiquing the validity of social media as a whole; rather they are focusing more effort into Google+ and Twitter. Afterall what sense would it make for an online content marketing educator to cut social media entirely?
Here is a deeper analysis of the future of social media and whether every company should pull the plug. I personally agree with Jon Loomer saying that it was an unnecessary move. In the short term they have gained wide publicity and their decision has gone viral. But in the long term they have cut another channel they cannot retrieve. 
Jason Duop
I enjoy tech stuff, creating websites and good marketing. Combine them altogether and you've got my attention.