The 5 Best Books For Marketing Success In 2021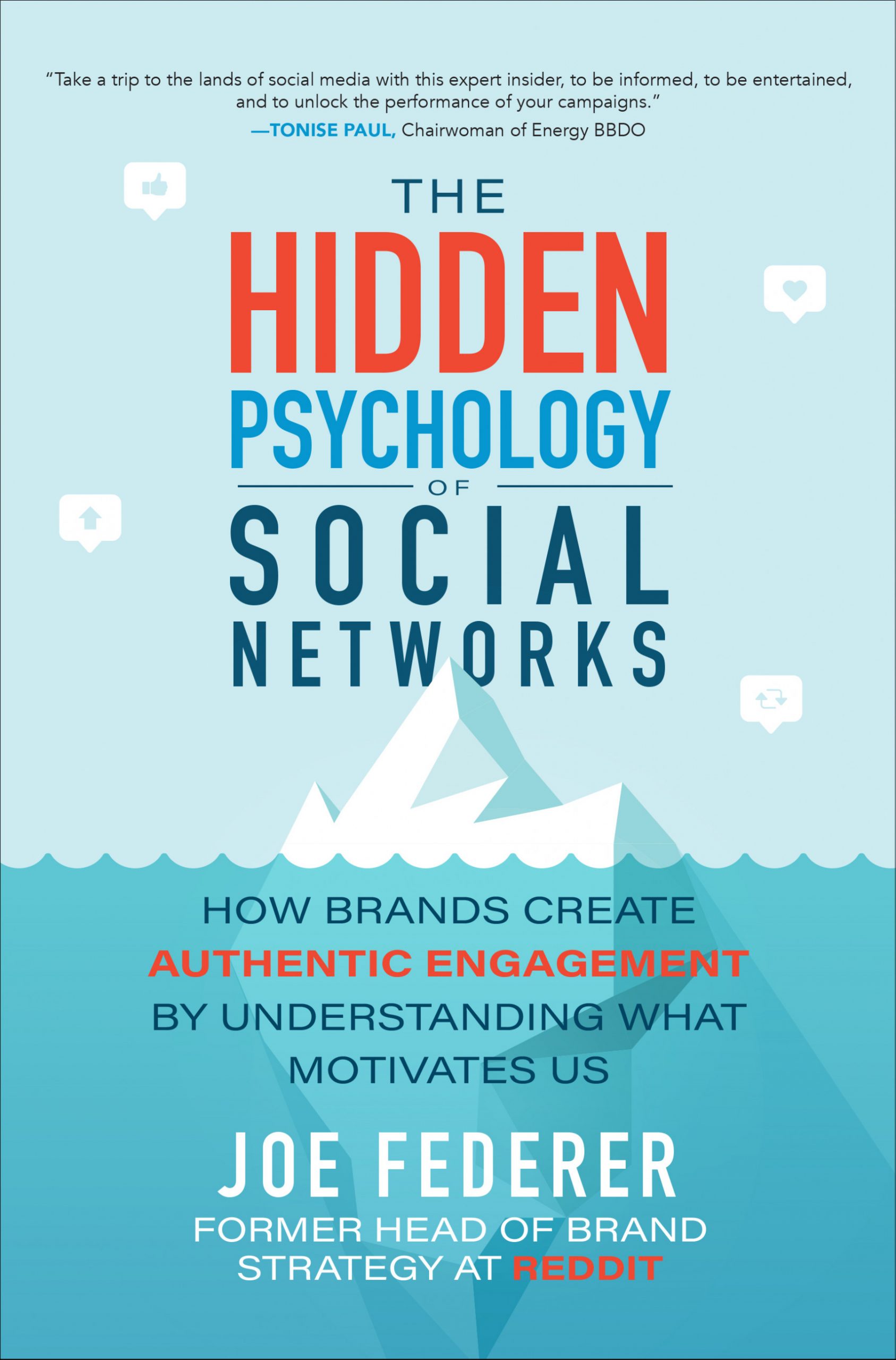 The Hidden Psychology of Social Networks:
About the Author
Joe Federer is the former Head of Brand Strategy at Reddit, where he helped reposition the platform's narrative to the larger world of advertising and drove revenue growth of over 10X in its first year in market.
Prior to joining Reddit, he worked at leading PR and advertising agencies, where his campaigns performed in the top 95th percentile of advertiser studies on Facebook, and where he led the launch of Pinterest and Instagram ads for some of the world's most important brands.
Joe has developed numerous successful content strategies for Google, Amazon, McDonald's, Bud Light, Coca-Cola, Toyota, Audi, Charles Schwab, and S.C. Johnson, among others. He thrives at finding the intersection between what brands stand for and what social media users are interested in seeing.
How Brands Create Authentic Engagement by Understanding What Motivates Us 
Leading marketing practitioner and thought leader Joe Federer draws on evolutionary biology, anthropology, neuroanatomy, and psychology, as well as more than a decade of hands-on experience, to explain why people act so differently in various online spaces and what they are seeking from participating in each one. With a framework based on Freud's Id, Ego, and Superego model of the human psyche, he demonstrates how the internet is a digital reflection of the collective human psyche and how different social networks correspond to different mindsets: platforms like Reddit to the unfiltered Id, Facebook and Twitter to the managed Ego, and Instagram to the ideal Superego. 
In the same way you behave differently when you're home alone, out with friends, communicating with family, or interacting with coworkers, people act and express themselves differently in these various online spaces. Context matters. Understanding this will enable you to develop and execute effective engagement strategies to reach your target audiences on each social network. Learn:
how to create content that drives sharing and word-of-mouth
how brands can fit natively into different types of social channels
how to balance branded social presences across different networks
why authenticity will only grow in importance to consumers
Fascinating and deeply compelling, The Hidden Psychology of Social Networks will equip you to make vastly more efficient use of your media buys, establish more thoughtful strategies, develop better creative, and, in the end, deliver more effective marketing that provides value.
Why do people act differently in various online spaces, and what do they seek from participating in each one?
In The Hidden Psychology of Social Networks, author Joe Federer draws on evolutionary biology, anthropology, neuroanatomy, psychology, and extensive hands-on experience to answer these questions.
Fascinating and deeply compelling, The Hidden Psychology of Social Networks will help you to make more efficient use of your media buys, establish more thoughtful strategies, develop better creative material, and deliver more effective marketing.
You'll learn:
To create content that drives sharing and word of mouth.
How brands can fit into different types of social channels.
Strategies and lessons for building a social strategy.
Inspiring stories of companies balancing social presence across network.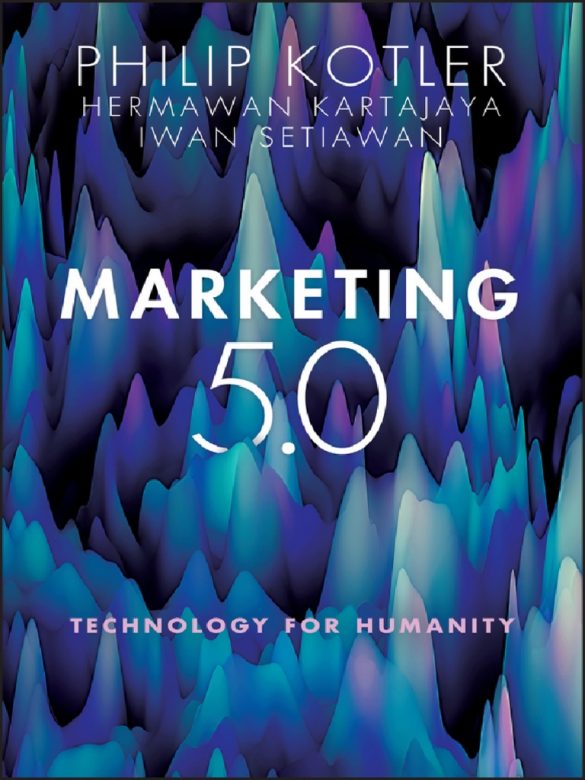 Marketing 5.0: Technology for Humanity 
Rediscover the fundamentals of marketing from the best in the business 
In Marketing 5.0, the celebrated promoter of the "Four P's of Marketing," Philip Kotler, explains how marketers can use technology to address customers' needs and make a difference in the world. 
In a new age when marketers are struggling with the digital transformation of business and the changing behavior of customers, this book provides marketers with a way to integrate technological and business model evolution with the dramatic shifts in consumer behavior that have happened in the last decade.
Following the pattern presented in his bestselling Marketing X.0 series, Philip Kotler covers the crucial topics necessary to understand modern marketing, including: 
·         Artificial Intelligence for marketing automation 
·         Agile marketing 
·         "Segments of one" marketing 
·         Contextual technology 
·         Facial recognition and voice tech for marketing 
·         The future of Customer Experience (CX) 
·         Transmedia storytelling 
·         The "Whatever-Whenever-Wherever" service delivery 
·         "Everything-As-A-Service" business model 
·         Internet of Things and blockchain for marketing 
·         Virtual and augmented reality marketing 
·         Corporate activism 
Perfect for traditional and digital marketers, as well as students and teachers of marketing and business, Marketing 5.0 reinvigorates the field of marketing with actionable recommendations and unique insights. 
There is a lot to like in this book. It accurately covers the direction where marketing is surely moving into. The authors also clearly identify the growing trend for a closer alignment between people their own personal values, and what they expect from the companies, products and services that they might give their time and money to. As Facebook's actions have recently demonstrated, if you behave in ethically dubious ways, this is not a smart or sustainable way to retain your users over a longer time frame.
Not everyone may have expected for a book assessing the future and making predictions about marketing to discuss ethics and sustainability so much. However we are, probably, hopefully, overall, moving in that direction. Not everyone will agree, and there will always be naysayers and those that resist, but like the tide going out, it is still happening. In this context we found this book enjoyable, insightful and provocative too. The authors may not get it all right, but this is a text that it is well worth reading to inform and bounce up against your own ideas and expectations of where things could be going.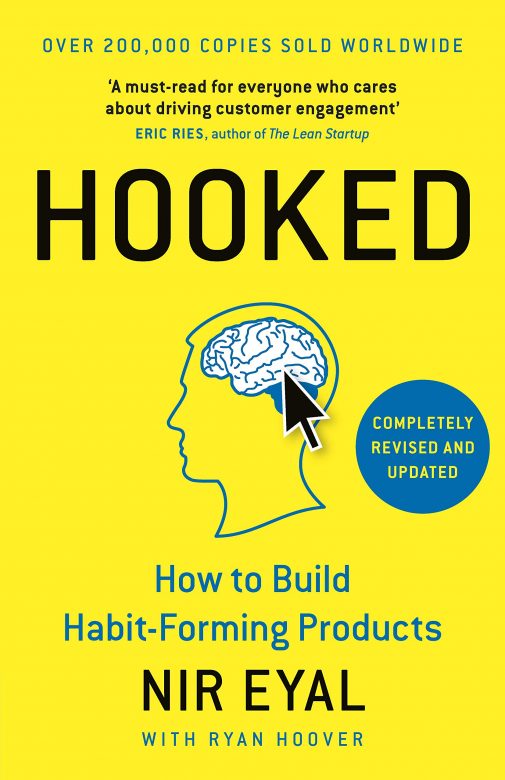 Hooked: How to Build Habit-Forming Products
by Nir Eyal
About the Author
Nir Eyal is the bestselling author of "Hooked: How to Build Habit-Forming Products" and "Indistractable: How to Control Your Attention and Choose Your Life."
He has taught at the Stanford Graduate School of Business and Hasso Plattner Institute of Design. His writing on technology, psychology, and business, appears in the Harvard Business Review, The Atlantic, TechCrunch, and Psychology Today.
Nir blogs regularly at NirAndFar.com. Subscribe to his Free Weekly Newsletter at http://bit.ly/2VPgTmd
Nir is also an active investor in habit-forming technologies. Some of his past investments include: Eventbrite, Anchor.fm (acquired by Spotify) Product Hunt, Pantry, Kahoot!, Refresh.io (acquired by LinkedIn), Happy Bits, Presence Learning, 7 Cups of Tea, and Pana.
How do successful companies create products people can't put down?
Why do some products capture widespread attention while others flop? What makes us engage with certain products out of sheer habit? Is there a pattern underlying how technologies hook us?
Nir Eyal answers these questions (and many more) by explaining the Hook Model—a four-step process embedded into the products of many successful companies to subtly encourage customer behavior. Through consecutive "hook cycles," these products reach their ultimate goal of bringing users back again and again without depending on costly advertising or aggressive messaging.
Hooked is based on Eyal's years of research, consulting, and practical experience. He wrote the book he wished had been available to him as a start-up founder—not abstract theory, but a how-to guide for building better products. Hooked is written for product managers, designers, marketers, start-up founders, and anyone who seeks to understand how products influence our behavior.
Eyal provides readers with:
Practical insights to create user habits that stick.
Actionable steps for building products people love.
Fascinating examples from the iPhone to Twitter, Pinterest to the Bible App, and many other habit-forming products.
I am kicking myself for not reading this book earlier. Eyal writes in an easy to digest way that is entertaining and helpful. This book isn't written for academics or the highly specialized , it was written for real people who's careers live simultaneously in several worlds: business, design, human behavior and ethics. He really has congregated several different sources in a way that just makes sense.
The use of real world examples paired with brain science and psychology was refreshing and helpful. As a business major turned designer, I was happy to see familiar concepts such as John Gourville's Eager Sellers and Stony Buyers and the ever popular question"Is it a vitamin or a painkiller?" examined in a new way.
At the end of each chapter, Eyal includes a few summarizing points in the "Remember and Share Section" which a great to reference later. Also included at the end of each chapter is the, "Do This Now Section" which includes questions that help you think about the chapter in the context of your own job or project. Because I am currently working on a behavior change project, I found this to be an extremely helpful, tactile way to actually use what I was learning. It also helped me to stop between each chapter and reflect, making sure I didn't miss anything. This was essential because the pages are bursting with tiny nuggets of knowledge that could really change the way you approach behavior change.
Another important note, Eyal hits on the ethics of behavior change, something designers should not neglect. As I move forward with my own project, I am excited for the ideas and guidance this book provides. Highly recommend!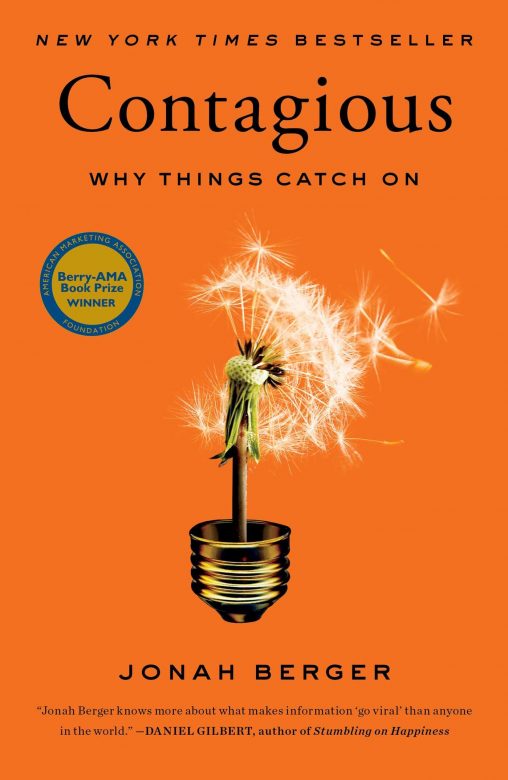 Contagious: Why Things Catch On
by Jonah Berger
About the Author
Jonah Berger is a Professor at the Wharton School at the University of Pennsylvania, an internationally bestselling author, and a world-renowned expert on word of mouth, social influence, consumer behavior, and how products, ideas, and behaviors catch on.
He has published dozens of articles in top‐tier academic journals, teaches Wharton's highest rated online course, and popular accounts of his work often appear in places like The New York Times, Wall Street Journal, and Harvard Business Review.
Over a million copies of his books, Contagious, Invisible Influence, and The Catalyst: How to Change Anyone's Mind are in print in over 35 countries around the world.
What makes things popular? If you said advertising, think again.
People don't listen to advertisements, they listen to their peers. But why do people talk about certain products and ideas more than others? Why are some stories and rumors more infectious? And what makes online content go viral?
Wharton marketing professor Jonah Berger has spent the last decade answering these questions. He's studied why New York Times articles make the paper's own Most E-mailed list, why products get word of mouth, and how social influence shapes everything from the cars we buy to the clothes we wear to the names we give our children.
In Contagious, Berger reveals the secret science behind word-of-mouth and social transmission. Discover how six basic principles drive all sorts of things to become contagious, from consumer products and policy initiatives to workplace rumors and YouTube videos. Learn how a luxury steakhouse found popularity through the lowly cheesesteak, why anti-drug commercials might have actually increased drug use, and why more than 200 million consumers shared a video about one of the most boring products there is: a blender.
Contagious provides specific, actionable techniques for helping information spread—for designing messages, advertisements, and content that people will share. Whether you're a manager at a big company, a small business owner trying to boost awareness, a politician running for office, or a health official trying to get the word out, Contagious will show you how to make your product or idea catch on.
I really enjoyed this book. It's a well-researched and intelligent book that explains why some messages or products take off exponentially and go viral in a second, while others fizzle out, never to be mentioned again.
The author takes us through a journey of the six key principles which drive things to catch on. These are Social Currency (we share things that make us look good), Triggers (top of mind, tip of tongue), Emotion (when we care we share), Public (built to show, built to grow), Practical Value (news you can use) and Stories (information travels under the guise of idle chatter).
He uses really interesting examples to guide the reader through each of these steps, such as the telephone booth that was in fact a door to a secret restaurant and why a NASA mission boosted sales of chocolate bars, so it's a really interesting and fun read.
If you have a message to spread, you need to read this book ASAP!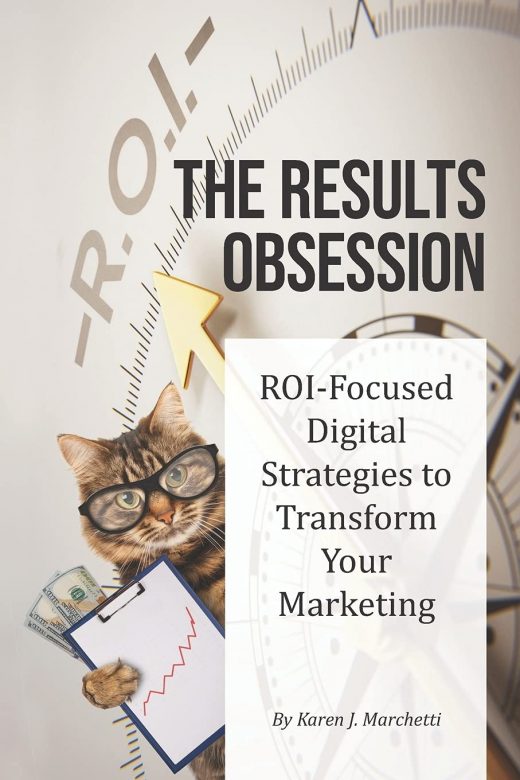 The Results Obsession: ROI-Focused Digital Strategies to Transform Your Marketing,
About the Author
Karen J. Marchetti brings 30+ years of Internet marketing and direct marketing planning, testing, and creative expertise for leaders worldwide, including:
Qualcomm, Union Bank of California, Bank of America, Lifeline Skin Care, Lifeline Cell Technology, RIMES Technologies, Brilliance Financial Technology, NES Associates, and American Nurses Association.
She has taught Internet Marketing and Direct Marketing at San Diego State University, University of San Diego, UC San Diego, CSU Long Beach, and the University of San Francisco. Marchetti is a Google Ads Qualified Search Consultant and a Google Analytics Certified Consultant.
Her digital strategies have doubled client sales, boosted online leads by 67%, driven 60% response to a survey by C-level executives, increased email click-through by 200%, and generated a 22% opt-in rate!
Her Internet marketing and direct marketing articles regularly appear in national and regional magazines and newspapers, including AMA's Marketing News and the San Diego Business Journal.
Do you know where to focus to consistently get better digital marketing results? 
These digital strategies have doubled client sales, boosted online leads by 67%, driven 60% response to a survey by C-level executives, increased email click-through by 200%, and generated a 22% opt-in rate!
You'll focus your efforts on the elements that have the biggest impact on results — Offers and copy, tailored to why your particular customers buy.
And emphasize the digital marketing channels with the highest ROI: your website, Search Engine Optimization (SEO), Email, and Pay-Per-Click (PPC) advertising.
You'll start by correctly diagnosing your progress from Traffic to Leads to Sales – so you'll know exactly how to improve results.
You'll understand what to review in Google Analytics (with step-by-step instructions).
And you'll learn the Marketing Metrics to evaluate every marketing effort (with easy-to-follow formulas included).
You'll have winning "formulas" to make every element of your copy really sell!
And you'll learn to strategically craft Offers for a big change in results.
You'll also discover easy ways to "test your way to success," so your marketing becomes more effective with every effort!
Finally, if you rely on outside resources, you'll learn how to evaluate every marketing proposal to choose better partners and solutions.
Results are the key in marketing. "Does it matter if the artwork was stunning, or you thought the copy was amazing, if the effort didn't bring in leads or sales?"
When you focus on results from every effort, you'll find ways to make every effort more successful.
Reviews: 
"This is the definitive handbook on digital marketing for small businesses. It serves as your 'expert consultant' to help get maximum return on every marketing dollar, and hire the right marketing specialists. Why wing it? With a book like this, you'll never have to." —  
Jerry Bernhart, Bernhart Associates Executive Search, LLC
"The Results Obsession walks you through clear, specific, detailed steps for diagnosing problems, driving leads and sales, website navigation and copywriting, SEO, online ads, email, testing, measuring, and staffing — all focused on the specific needs of small businesses." — Susan J. McIntyre, The Catalog Doctor, Founder, McIntyre Direct
"The emphasis on TRAFFIC, LEADS, and SALES, and how to analyze these metrics will surely prove helpful to readers. So many marketers execute campaigns without properly analyzing the results. This book gives you an understanding of what KPIs need the most focus." — Ruben Leon, Managing Partner, Spectrum Mailing Lists