Facebook Tests Buy Button
Previously, Facebook was only seen as a medium to communicate with customers through Facebook ads. Now after the social media giant announced it is testing a buy button, the organisation may transition from an e catalogue to an interactive e-commerce site. Here is what the button is expected to look like: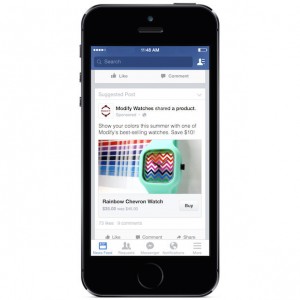 Announced as a way to "help businesses drive sales through Facebook" the Buy button will enable customers to complete a purchase without leaving the site. With Facebook being the world's largest meeting place- accommodating nearly half of those with Internet access, it has potential to revolutionise online sales.
While Facebook ads may draw in an illusive audience, the buy button will prompt this audience to make an impulse purchase. Along the way, this audience could ask online friends their opinion of the purchase or make a query directly to the company's page. This is the beauty of social commerce- the purchasing process becomes more interactive and engaging.
Furthermore this button has the potential of generating web traffic and online brand awareness. Although users may be tempted by the button, it is unlikely someone would purchase a high commitment product solely from Facebook. Rather the button could cause them to consider making a purchase and prompt them to visit the company's website for more information. 
This button is still in testing and there can be an expected delay between its release to American and global businesses. With different payment systems and  New Zealand being such a small country it is unlikely Facebook will open this revenue to local businesses any time soon.