Yellow Pages Struggling in an Online World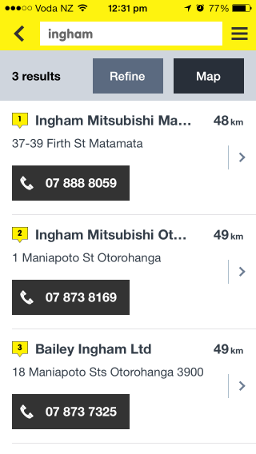 2014 looks to be a year where traditional advertising mediums continue to struggle while online marketing strengthens its position as increasingly the most important and efficient method of connecting with consumers.
Yellow Pages especially are struggling to be relevant in the online world. Their biggest income stream – the printed Yellow Pages books – are seldom referred to, but instead more commonly seem to be used to elevate computer monitors!
Whole industries are abandoning display ads in the Yellow Pages books, knowing that their target market searches online instead of using the printed books.
And Yellow Pages attempts to reposition themselves as an online marketing solution has so far fallen short of their competition.
They started with a potentially insurmountable advantage: The largest paid directory of business listings in New Zealand, with all of their key contact details, and a consumer base that trusted and used their products.
Now there's no point going over history of what they could/should have done better. History can't be changed.  But what are they doing wrong right now?
Firstly, it was good ( in theory) that they moved their directory online, and then eventually they launched a mobile app. However their biggest current downfall is that the search results in the app are so consistently unhelpful, so frustratingly incorrect, that their very own app is ruining their reputation of being the reference to turn to.
In my own personal experience, nearly every interaction with the Yellow app ends in me thinking, "Useless app! Does Yellow even know how pathetic the results are?"  I voiced this frustration to two friends one day and they both laughed at me for using the app. "I can't believe you even bother trying with that app!" said one of my friends. "Just use Google".
And therein lies one of Yellow's crucial problems. Their app gives such poor search results that it is developing a reputation of being unhelpful. Yellow has almost all businesses listed on its directory, but if users can't easily find the businesses they're seeking, the value of the directory gets killed.
As a specific example of terrible Yellow search results, I searched for "Ingham" in Yellow, as I wanted to phone Ingham Hyundai who are just 3.0km down the road from me, according to Google Maps. But here is the result that the Yellow app gave me: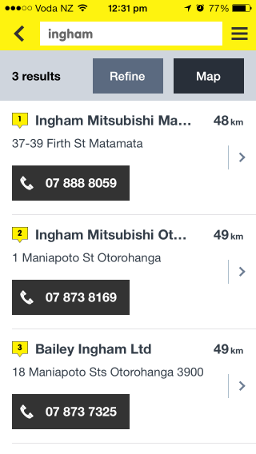 That's right … instead of providing the Ingham business just down the road, it decided that the closest one to me was 48 km away.
And yet when I used the website and search for "Ingham" in "Hamilton" it correctly lists five businesses.
Am I the only one this is happening to?  Apparently not.  A brief check of the reviews on the App Store finds a similar theme.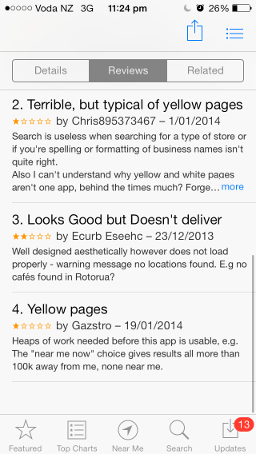 Ecurb Eseehc rightfully questions Yellow's results which said there were no cafes in Rotorua!  Gazstro found a similar problem to myself with the proximity search displaying results more than 100km away from him.
In the struggle to reinvent their business Yellow has failed at the most fundamental level: to help the public quickly and easily find the contact details for the businesses they are looking for.   Unless they can fix this problem quickly, and somehow win back consumer's trust, in my opinion there is little hope left for Yellow.