The Future of Retail: In Store Now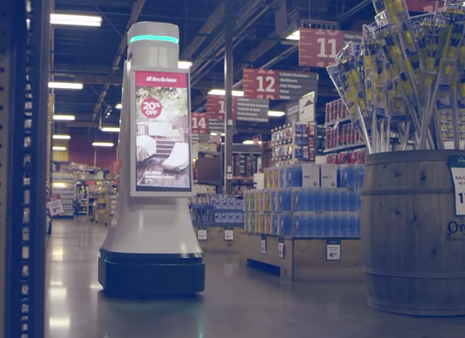 Retail seems to be getting a robotic booster. Orchard Supply Hardware's San Jose store is releasing a robot store assistant this November. Geek Tamin explained the technology saying, 
"The OSHbot introduces itself to customers, scans items, leads customers to the correct item quickly all while avoiding collisions and speaking multiple languages."
Watch the OSHbot in action here: 
https://www.youtube.com/watch?v=Sp9176vm7Co
This is just another example of processes possibly becoming automated. In some instances even dynamic marketing is becoming automated. It's not uncommon to see some retail stores have replaced cashiers and baggers with robots. But robots which scan items, respond to spoken requests, speak multiple languages and maneuver stores without crashing? Still very uncommon.
And it's unlikely to become commonplace any time soon. This is afterall only in one hardware store in California. So for the mean time, early adopters will get a competitive advantage by looking into this technology. This is because it is still exciting to customers. One enthusiastic customer in the video claimed "I will come back to Orchard because of the robot."